I just started using Go, and now I am trying to get a datetime out of a Sqlite3 database. In this case I am trying to read the field added.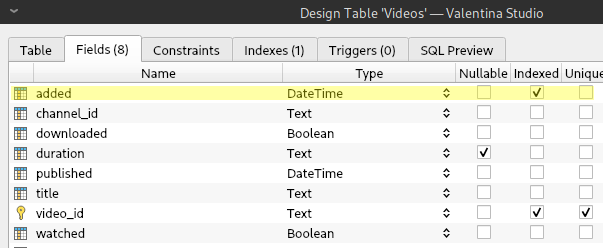 I am using the code below. I know that the record with the specific video_id exists, it works fine if I try to read an integer or string from the same table, but not when I am trying to read a datetime. I get back 0001-01-01 00:00:00 +0000 UTC everytime, instead of the date in that field? My guess is that I am doing something really stupid here, but I don't see it

Anyone knows how to deal with dates and Sqlite?
package database

import (
	"database/sql"
	"fmt"
	"time"

	entities "github.com/hultan/softtube/softtube.entities"
)

const databasePath = "/home/per/temp/test.db"
const connectionString = "file:" + databasePath + "?parseTime=true"
const sqlStatementGetDate = "select added from Videos where video_id='wacVZa4DQ6g'"

// GetDate : Get the added field
func GetDate() (*time.Time, error) {
	// Open database
	db, err := sql.Open(driverName, connectionString)
	if err != nil {
		return nil, err
	}

	rows, err := db.Query(sqlStatementGetDate)
	if err != nil {
		return nil, err
	}
	defer rows.Close()

	var added time.Time
	if rows.Next() {
		if err = rows.Scan(&added); err != nil {
			panic(err)
		}
	}

	fmt.Println(added) // Prints : 0001-01-01 00:00:00 +0000 UTC

	// Return the date
	return &added, nil
}