Standard REST server is rather simple to understand and get up and running, but a gRPC server that do the same thing seems to be complicated and full of dead ends as soon as you want to communicate with web and postgresql. And the knowledge about gRPC also seems limited. Or at least the knowledge how to inform in a simple way.
I have tried to understand how the pieces work together, but still not get the full picture. Is this correct?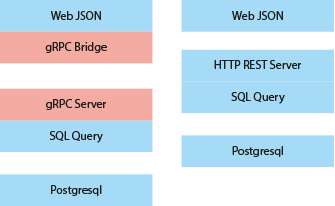 My questions are:
Is it worth the time spent to replace standard REST with gRPC?
Is there any live comparison like this: https://imagekit.io/demo/http2-vs-http1
Are there many of you that are using gRPC today?
Are there any other benefits with gRPC?