I am trying to create an API. This API uses a "store" with CRUD endpoints for each database table (or task). This means that there can be maybe 100 packages in folder "store".
How do I import this into my main library?
By pointing to the folder only?
Or is there a better way to do this?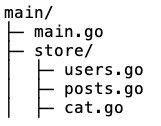 users.go
package users

func Getusers() string {
   return ("Hi from user")
}

main.go
import "store"

fmt.Println(Getposts)
fmt.Println(Getusers)

Error message I get
./main.go:16:14: undefined: Getpost
./main.go:17:14: undefined: Getuser