Hi, I'm having an issue with the Go packages, and maybe someone here can clarify the issue.
I have the project structured like this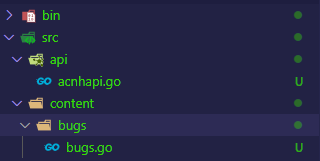 Also the main.go file it is at the level of the "content" folder.
How can I import the acnhapi.go package called "package acnhapi.go" into bugs.go file? I've tried almost everything I could and I cannot find how.
Thanks in advance