I am in the process to choose tools for a 3-tier web application. Limited knowledge of both Angular and Go, I have found at least two main ways to look at this:
1. The Angular way
Angular needs AFAIK a web server (nginx) to work. The upside is tons of modules that extends Angular. Dependencies both to other modules and correct version seems to be the downside.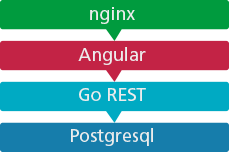 2. The Go way
Go does not need a separate web server but could be used to create at website according to this this site
My questions are:
Am I correct assuming that both will work?

Any pros and cons with each way? Speed? Complexity? Maintainability?

Any other tips creating a web application (Basically CRUD)?
Any input are welcome!